As our country, India celebrates its 75th independence in 2021. How do we forget our Kargil war heroes who sacrificed their lives for our vault. And the main attraction is Vikram Batra, who offers his life to protect a friendly soldier.
Vikram Birth History
Vikram was born on 9th September 1974; he hails from his hometown, Palampur in Himachal Pradesh, where lives with six family members included himself. Vikram belongs to Hinduism and is an educated family as shown in the table below;
Family Member
Name
Description
Father
Girdhari Lal Batra
Government school principal
Mother
Kamla Kanta Batra
School-teacher
Brothers (twins)

Vishal
Vikram

Elder brother

Younger brother

Sisters

Nutan(Neetu)

2. Seema

Elder sister

Younger sister
Vikram is 14 minutes younger than his elder brother Vishal, and he is the third child in his family, where Neetu is the first elder sister. The family always calls twin brother 'Luv Kush' whereas Vishal is "Kush" and Vikram is "Luv" because their mother was a great devotee of Ram.
Vikram schooling and achievements:
He received his primary education from his mother and completed his 8th from DAV School and Senior Secondary from Central School, Palampur. He and his brother are active sports players and represent the school in Delhi's national level Parliamentary Championship. A part of the sports, Batra is also a worthy student in academics. In 1990 he and his brother represented a table tennis player in the All India KVS National.
A part of Table Tennis, Vikram is also an active player in Karate and is a Green Belt holder. In 1992 he passed +2 with 82% and went to Chandigarh for his higher education.
Halls of knowledge and Success of Vikram Batra: 
Vikram enrolled in a B.Sc course at DAV College and joined the NCC of Air Wing, and achieved as Best North Zone National Cadet Corps Air Wing Cadet of Punjab Directorate. Vikram is also the President of the Youth College Club in the college.
After obtaining a "C" grade certification in NCC, he joined as Senior Junior Officer in the NCC unit. In 1994, represents the college as an NCC cadet at the Republic Day celebration. The life stage where he decided to join the Indian Army and told the same to his parents.
During the last phase of his bachelor's degree, Vikram Batra offered to join the merchant navy from shipping company headquarters in Hong Kong, but turned down the offer, saying, "I want to do something big for my country and not run for the money".
After completing his graduation in 1995, Batra took admission in MA English at Punjab University Chandigarh. Analyzing the study, he once told his father that he did not want him to take all the burden of his studies and start a part-time job to burden his father too much and not to pay too much for his studies and lifestyle. Don't put pressure on it. He also enrolled himself in the CDS (Combined Defense Services) exam for military services.
Vikram Batra and Dimple Cheema love story:
At Punjab University, Vikram Batra meets a girl named Dimple Cheema, his classmate from there; they both know each other and fall in love. As time progresses, they both form a severe and unmarried couple. They both used to chit-chat now and then, and both the parents knew about this relationship. At the time, when Vikram was selected for training & joined the military, Dimple would always talk to and meet him on the phone.
Whenever he returned home, they used to visit the ritual site there in the form of Gurudwara and Mata Mansa Devi Temple. Vikram always tells Dimple as his second wife first is always be a "BHARAT MATA."
In a meeting when they both went to their religious destination, Dimple expressed her fear of marriage; without saying a word, she took it out of the pocket, cut her thumb with a blade, and filled the Cheema "Mang", which gave it an enthusiastic and "VDIMPLE" movement. Vikram & Dimple decides to get married after some time.
Vikram Batra dream journey as an Indian Army begins:
In 1996, he passed his CDS exam and called for an interview at SSB (Services Selection Board) Allahabad. He is among the top 35 qualifying candidates & was selected for schooling at IMA Dehradun. After studying for a year at Punjab University, he went for training and joined the Manekshaw Battalion in the IMA.
On 6th December 1997, he completed a 19-month training course at IMA, commissioned as a lieutenant in the Indian Army. Vikram was designated as the 13th Battalion of the Jammu and Kashmir Rifles (13 J&K Rifles) after completing his regimental training from Jabalpur, Madhya Pradesh. Assigned to the Jammu and Kashmir district Baramulla (a region with significant terrorist activities). I got my first posting in Sopore.
During his Sopore posting, Vikram encounters various terrorists. In one such encounter, he narrowly escaped a bullet fired by a terrorist, trapping a man behind him, leading to the Soldier's death. This incident filled him with grief, and he killed all the terrorists and killed them as his brothers are no more soldiers. Talking to his sister on the phone about the incident, he told his sister, "Didi, this bullet is for me, but I lost my man.
When Vikram goes to his hometown on vacation
Every time Vikram visits his hometown, he always visits Neugal Cafe in Palampur and visits Gurudwara and Mata Mansa Devi with Dimple Cheema.
1999 Vikram Batra Kargil War Phase
In 1999, he visited her home for the festival of Holi, and that was his last visit. As the Kargil War was on the verge at this stage, one of his neighbors asked him to be careful; he eagerly replied that "I will come back with my Indian flag raised or wrapped in it, but will definitely come back". Vikram received orders to proceed to Shahjahanpur in Uttar Pradesh in June 1999. But due to the outbreak of the Kargil War, the order of deployment changed, and on 5th June 1999, he asked to transfer Drass. While leaving for the Kargil war, he assured his parents to contact him on the phone at least once in 10 days.
On 6th June 1999, he moved to Drass and remained under the 56 Mountain Brigade. On 18th June 1999, his senior 13 J&K RIF Commander of Lt Col Yogesh Kumar Joshi conducted a detailed survey of Capturing Point 5140 (Strategically Important Mountain Peak of Drass Sector). Joshi decided to attack Point 5140 with the Delta Company with Vikram Batra and the Bravo Company under Lieutenant Sanjeev Singh Jamwal from the south and east positions.
During the briefing, Vikram chose the words "Yeh Dil Maange More" as his breakthrough victory, and Jamwal said, "Oh yes yes yes yes!" As a sign of success for his Bravo company. One-handed kills 3 enemies, gets injured but did not break continued operation till the capture of 5,140. At 0435 hrs, in his radio command, his success calls for commendable achievement as not a single soldier has died in this operation. After objective success, Vikram promotes to Captain. On 29th June 1999, he called his mother for the last time and said, "Ek dum fit hu, fikr mat karna" (All right, don't worry).
Vikram Batra was famed on television all over the country and got the next task to capture Point 4875 (the strategically important peak located in the Mushkoh Valley). On 4th July 1999, 13 J&K Rifles launched their attack point at 4875. Captain Vikram Batra was lying in a tent on a sleeping bag near the Mushkoh drain with fever and fatigue. Captain Nagappa, shooting the advancing Soldier, is badly injured by a shell fired by a Pakistani soldier during the operation.
Taking advantage of the Captain's injury, the Pakistani Soldier quickly climbs to the top. While Captain Batra silently observed every aspect in the tent, he turned to his commanding officer and volunteer and said, "I will go up sir". But the Commander Officer refused due to illness.
Seeing Batra's motivation and determination to capture 4875, many soldiers voluntarily decided to accompany him. On the night of 6-7 July when Vikram Batra advanced with 25 Delta troops. Pakistani soldiers cut the Indian Army's wireless message that "Sher Shah" (Batra's code name) was approaching.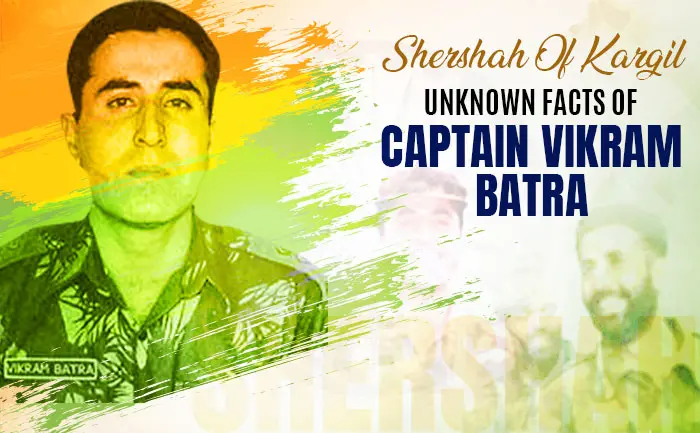 The verbal exchange of words continued throughout the night, and Batra killed 5 Pakistani soldiers in a close fight.
Suddenly he realized that one of his soldiers had opened fire, and he pulled it out with the help of Subedar Raghunath Singh. Vikram told the junior commissioner officer to go to a safe place, saying, "You have a family and friends to go back, I am still unmarried, I will be by the side of the head or you will take your feet".
Vikram Batra death anniversary
On 7th July 1999, step into heaven with his last bywords "Bharat Mata Ki Jai". He frontage himself to the enemy for saving alternate soldiers got fired from close range in the chest within seconds. Pakistani Soldier shotted him in the head with an RPG. Batra collapsed next to the wounded Soldier and died.
Stage of respect and admiration of Vikram Batra
On 15th August 1999, he is awarded the Param Vir Chakra, India's highest gallantry award. President K.R. received his father on Republic Day 2000 on behalf of his deceased son. Narayanan gets respect
In 2003, Abhishek Bachchan played the role of Vikram Batra in the Hindi film LOC Kargil.
The historic capture point 4875 was named "Batra Top" in honor of Vikram Batra.
The hall has been named "Vikram Batra Block" at the Service Selection Center at Allahabad.
Jabalpur Cantonment place named as "Captain Vikram Batra Enclave".
The joint cabinet mess of IMA was named "Vikram Batra Mess".
DAV College Chandigarh, a memorial for war veterans including Captain Batra, has been displayed.
Now a film has been made on the biopic presented by Sidharth Malhotra as SherShah.